May 21, 2016 2:10 am by Brady
---
I've been making major gameplay additions recently, so I decided to add an idea Michael and I have been designing for a few months- wall upgrading. Wall upgrading will add a continuous purpose for metal, and will make the "mining" stat worthwhile.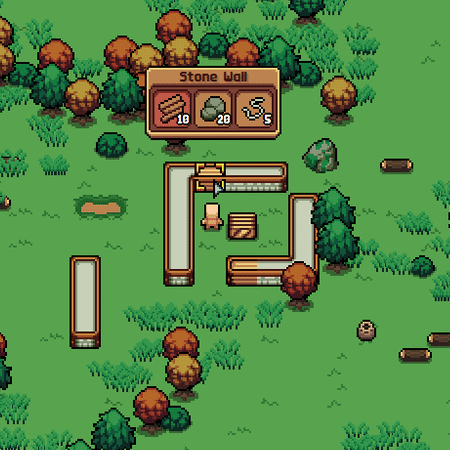 In order to upgrade your walls, you simply have to equip a hammer and hover over a village wall piece (for the sake of demonstration, the pictured wall piece is a house wall). Then, the recipe will appear and will show you which materials you need to gather or create. Clicking the wall piece will begin the upgrading process!
Besides wall upgrading, I'm also excited to say that I was able to code the basics of our audio engine. Our composer, Patrick Egan, has spent months working on the theme music, so this is exciting for all of us. You can find a preview of the music on his blog. Along with the theme music, we were also able to add in some basic subtle sound effects which will be refined later. As always, you can adjust the audio levels in the Options menu.
That's all I've got for today 🙂
Thanks,
Brady